So called Italian dream of breathtaking relief is disappeared behind the veil being cropped first time on the biggest spectacle in last 60 years. It will not be a nightmare if you miss Italia in Russian fields.



1. Broken down Gianluigi Buffon after the match against Sweden. Few months left when everyone is busy in Group Stage Predictions for the 2018 World Cup.
Host Russia and Saudi Arabia will inaugurate the excitement of world cup on 14 June, 2018.Russian citizens are very much incited to see the expertise of their national heroes while Saudi Arabia is expecting a fair competition.



World Cup Analysis 2018: Busy squads are excited for final whistle.
32 teams are ready to run in the Russian football battle fields for the most expected football trophy in the world after finalizing the draw for the FIFA World Cup 2018.
Squads have their own plans for this tournament although some calamities have brought big change in the scenario, such as fall down of Italy, Chile and Netherlands shocked their nations and changed the whole plan.
Draw for the final provided by FIFA:
2. Football prediction" who are going to the final race?
The eight groups are finally known when the FIFA World Cup filed is ready to accept them. When everyone is trying to figure out the path to the trophy, some issues are arising apparently.Who will win the group? Who is ready for a deep run? Who will surprise doing both for better and for worse? All of these are emerging from Group Stage Predictions for the 2018 World Cup.
Group Stage Predictions for the 2018 World Cup
In the 2018 FIFA World Cup qualification, FIFA confederations have decided that 32 teams are going to taste the flavor of 2018 FIFA World cup directly. As we know it is a series of the tournament where everything is decided by FIFA confederations. Russia got the privilege to take part in the tournament being qualified automatically as a host country. On the other hand, 31 countries got elected by their performance among 210 FIFA members and it's adding an extra sensation in 2018 FIFA World Cup Predictions & Analysis.
3. Collected from Wikipedia.
Qualification process In Zurich FIFA Executive committee considered the slots allocation for confederation on 30 May 2015. It was talked to keep the same allocation of 2014 for the 2018 and 2022 tournaments where 32 teams will take part in the tournament of world cup.



Predicting the 32 world cup teams 2018; Hungry Squads.
France got their place at the 2018 FIFA World Cup Russia by topping Europe's Group A, despite losing to Sweden and drawing against Belarus and Luxembourg.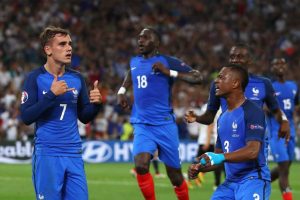 France shows their effectiveness always when they can use their natural speed.  Their strong midfield built around Paul Pogba and N'Golo Kanté can make a change at any time. France was in the need to win their last game to make sure of their passage to Russia and luckily, they got Belarus as an opponent at home. Their talented squad showed their caliber and made the path to the dream. What will be the Group Stage Predictions for the 2018 World Cup depending on their announced squad?
France's complete squad announced by the French FA's official Twitter account:
Goalkeepers: Alphonse Areola (PSG), Hugo Lloris (Spurs), Steve Mandanda (Marseille)
Defenders: Presnel Kimpembe (PSG), Laurent Koscielny(Arsenal), Djibril Sidibe (Monaco), Samuel Umtiti (Barcelona), Raphael Varane (Real Madrid), Christophe Jallet (Lyon), Lucas Digne (Barcelona), Layvin Kurzawa (PSG).
N'Golo Kante (Chelsea), Blaise Matuidi(Juventus), Paul Pogba (Manchester United), Adrien Rabiot (PSG), Corentin Tolisso (Bayern Munich), Thomas Lemar (Monaco) are the power of midfield who have technical abilities to make their way smooth.
Happy Antoine Griezmann against Belarus can improve his confidence.
 Forward players Olivier Giroud (Arsenal), Antoine Griezmann(Atletico Madrid), Alexandre Lacazette (Arsenal), Kylian Mbappe (Monaco), Florian Thauvin (Marseille), Nabil Fekir
(Lyon), Kingsley Coman (Bayern Munich) have an incredible amount of strength in depth to destroy opponents defend.



Germany through qualifying campaign of Germany's 2018 World Cup, it's predicting a great success with ten glorious victories where the mighty Germans proved the supremacy over football. Ruthless defense or defending champion, whatever the title would be, this team is definitely full of a lot of talent although there is shocking news for Bayern Munich stars Jerome Boateng 
and Manuel Neuer as they are suffering from injury. After their 2017 FIFA Confederations Cup triumph, Germany is getting accolade currently for their performance.
6. Germany's full 24-man squad:
Goalkeepers: Bernd Leno (Bayer Leverkusen), Marc-Andre ter Stegen (Barcelona), Kevin Trapp (Paris Saint-Germain)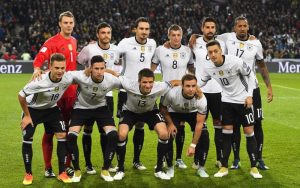 Defenders: Jonas Hector (Cologne), Mats Hummels (Bayern Munich), Joshua Kimmich (Bayern Munich), Antonio Rudiger
(Roma), Niklas Sule (Bayern Munich), Matthias Ginter (Borussia Monchengladbach), Benjamin Hendrichs (Bayer Leverkusen)
Midfielders/forwards: Julian Brandt
(Bayer Leverkusen), Emre Can (Liverpool), Julian Draxler (Paris Saint-Germain), Sami Khedira (Juventus), Toni Kroos
(Real Madrid), Mesut Ozil (Arsenal), Serge Gnabry (Hoffenheim), Leon Goretzka (Schalke), Sebastian Rudy (Bayern Munich), Lars Stindl (Borussia Monchengladbach), Timo Werner (Red Bull Leipzig), Mario Gomez (Wolfsburg), Amin Younes (Ajax Amsterdam), Thomas Muller (Bayern Munich)
German squads want to relish this flavor again in this 2018 World Cup.
It has been predicting that Germany and Mexico will dominate the group F when South Korea would probably face the pressure against three heavy weights in the group. It will be easy for Germany to be group champion if they can give their natural caliber. All eyes will be on Joachim Low and his men due to their status of defending champions when it is easy to say about their potency.
 Russia the former goalkeeper Stansislav Cherchesov became the manager of Russian team after a substandard act at Euro 2016 and through the Group Stage Predictions for the 2018 World Cup
we can see, as a coach, he brought a change in Russian defense by giving priority on youth.
As a host, Russia got ticket to World Cup 2018 automatically and they has been set in group A. Their youth could be a key to show us any surprise against Uruguay, yet they are not worry about it as there are two teams, Saudi Arabia and Egypt, who are relatively easy and Russia can put away by their performance.
Host Russian squad is posing for FIFA World Cup 2018.
 Brazil This Brazil squad is loaded and has a well-mannered mix of firmness and style when players like Neymar and Coutinho will be faithful in sharp attacking in opponent's defense. 5 times world champion Brazil is the beauty of Football. They will repeat their old history keeping well balance in the team following the drawing of Tite, it is expected.
"I was delighted when the players told me they are having so much fun playing for Brazil," said Tite recently.

 

 
I think he's up there with Lionel Messi as the most influential player in world football. The thing is, he had to come out of his shadow a little. Playing with someone as unique as Leo is the most incredible thing that can happen to you, but there's always that doubt in your mind if it's you that really has the quality or if it's him.
Tite, 55 years old veteran has been appointed as Brazilian coach by replacing Dunga
in June 2016 and he is very much expected about his young students who made a beautiful success so far. They won 10 and drew two, scoring 30 goals and conceding just three.
In a short time, Tite has managed his team bringing to light from a back corner and regained the faith of disappointed fans. Now they are strong enough with fiery attack and pure defence to defeat Switzerland, Coata Rica, Serbia in first round to become a group champion and this team can smile till end.
7. Brazilian fans are waiting for this celebration after piercing goal area.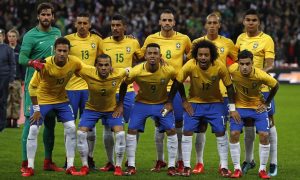 Here is Brazil's squad in full, according to ESPN:
Goalkeepers: Alisson (Roma), Cassio (Corinthians), Ederson (Manchester City)
Defenders: Danilo (Manchester City), Miranda (Inter Milan), Marquinhos, Thiago Silva, Daniel Alves (Paris Saint-Germain), Jemerson (Monaco), Filipe Luis (Atletico Madrid), Marcelo (Real Madrid)
Midfielders: Casemiro(Real Madrid), Fernandinho (Manchester City), Paulinho (Barcelona), Renato Augusto (Beijing Guoan), Philippe Coutinho (Liverpool), Willian (Chelsea), Arthur (Gremio), Diego (Flamengo), Fred (Shakhtar Donetsk)
Forwards: Diego Tardelli (Shandong Luneng), Gabriel Jesus (Manchester City), Neymar (PSG), Roberto Firmino (Liverpool)
Spain With inconsiderable influx of young players in the squad, Spain is arranged by old experienced warriors who got back together for one last job to show the world. There are so many legends like Sergio Ramos, Sergio Busquets, David Silva, Pique, Andres Iniesta
,all are above 28 years old and especially the hero of 2010 World Cup, Andres Iniesta is 33 years old.
Group B is the toughest group among all 8 groups where two power of European football Spain and Portugal will spread the light of beauty. On the other hand comparatively small but not easy two other teams Iran and Morocco will add taste of the game. But it is visible in 2018 FIFA World Cup
Predictions & Analysis that two superpower Spain and Portugal will slaughter Iran and Morocco.
8 .This old wizard will spread his magic spell.
Here is Spain's squad in full:
Goalkeepers: Pepe Reina (Napoli), David de Gea (Manchester United), Kepa Arrizabalaga (Athletic Bilbao)
Defenders: Nacho, Sergio Ramos, Dani Carvajalall Real Madrid), Cesar Azpilicueta (Chelsea), Nacho Monreal (Arsenal), Gerard Pique, Jordi Alba (both Barcelona), Marc Bartra (Borussia Dortmund)
Midfielders: Sergio Busquets, Andres Iniestaboth Barcelona), Saul Niguez, Koke (both Atletico Madrid), Isco, Marco Asensio (both Real Madrid), Thiago Alcantara (Bayern Munich), David Silva (Manchester City), Asier Illarramendi (Real Sociedad)
Forwards: Alvaro Morata, Pedro (both Chelsea), Iago AspasCelta Vigo), Jose Callejon (Napoli), Rodrigo (Valencia)
Argentina  Team of Lionel Messi
, Argentina is full of talented players like Mauro Icardi, Sergio Aguero, Angel di Maria, Ever Banega, Javier Pastore, Angel Correa, Gonzalo Higuain and captain Messi who has name and fame to every corner, is going to take another step of their predecessor Diego Maradona.
In 2014 World Cup Germany defeated Argentina in Final match. There was possibility to touch the dream. Probably World Cup 18 is the last chance for the best player of current generation Lionel Messi to win the number one football trophy and team Argentina will look for his left foot. If there is no accident and if Argentine talents can give their best, it will be easy for them to beat Iceland, Croatia and Nigeria. Undoubtedly it is going to be a do or die competition.
9. Super horsepower Lionel Messi will mesmerize opponents by his enchantment of left foot.
Goalkeepers: Sergio Romero (Manchester United), Nahuel Guzman (Tigres), Agustin Marchesin (America)
Defenders: Javier Mascherano (Barcelona), Federico Fazio (Roma), Nicolas Otamendi (Manchester City), Gabriel Mercado (Sevilla), Emanuel Mammana (Zenit St Petersburg), German Pezzella (Fiorentina)
Midfielders: Ever Banega (Sevilla), Lucas Biglia (AC Milan), Leandro Paredes (Zenit St Petersburg), Angel Di Maria (Paris Saint-Germain), Marcos Acuna (Sporting Lisbon), Eduardo Salvio (Benfica), Emiliano Rigoni (Zenit St Petersburg), Alejandro Gomez (Atalanta)
Forwards: Lionel Messi (Barcelona), Paulo Dybala (Juventus), Mauro Icardi (Inter Milan), Sergio Aguero (Manchester City)
England
1966 crowned world champion England has been elected in Group G where Belgium, Tunisia and debutants Panama are the opponents. Gareth Southgate's team has a very good possession in technical knowhow of Football by dominating English League. Although England has failed to win any major tournament recently, there is no doubt in their ability as the team is full of adult strength.
We can narrate in Group Stage Predictions for the 2018 World Cup
that England will slaughter the opponents Belgium, Tunisia and debutants Panama in group stage.
 ENGLAND SQUAD FOR WORLD CUP 2018 (UPDATE: 23.01.18)
Goalkeepers: Joe Hart, Jack Butland, Jordan Pickford
Left-backs: Danny Rose, Ryan Bertrand
Right-backs: Kieran Trippier, Kyle Walker
Centre-halves: Michael Keane, John Stones,Gary Cahill, Phil Jones, Joe Gomez
Midfielders: Eric Dier, Jordan Henderson, Raheem Sterling, Adam Lallana, Dele Alli, Jesse Lingard, Alex Oxlade-Chamberlain, Jack Wilshere
Forwards: Harry Kane, Marcus Rashford, Jamie Vardy
Group H:
It is going to be very difficult to predict about Group H, as it seems like a so called Group OF Death in 2018 FIFA World Cup where every team possess the quality to win the group. Everybody is expecting much from Poland as there is a big star player Robert Lewandowski and it's a European famous team.
Lions of Teranga, Senegal is the pace of Africa who can make the change anytime against anyone by their athleticism. Team of James Rodriguez, Colombia already showed their capability in the FIFA World Cup 2014 and gained a lot fans that are waiting to be thrilled very soon. Although we can't expect a deep run of Japan in the tournament, one of the top team in Asia can roar anytime if they can show their potential under the supervision of Vahid Halilhodžić.
10. The wind of imminent world cup is touching from young to old irrespective of ages as the beacon of biggest football tournament is coming close. With the expectation of aircraftmen and for the love of Soccer, teams are getting integrated with their dream.
From football experts to football fans, everyone is slotting to smell the odor of 90 minutes. Group Stage Predictions for the 2018 World Cup
is taking place in social sites, blogs, news papers, coffee shops, restaurants everywhere and who knows that which prediction is going to be accurate?
However, this sensational tournament will bring happiness undoubtedly no matter who smile or who cry in the end.